Lives Lived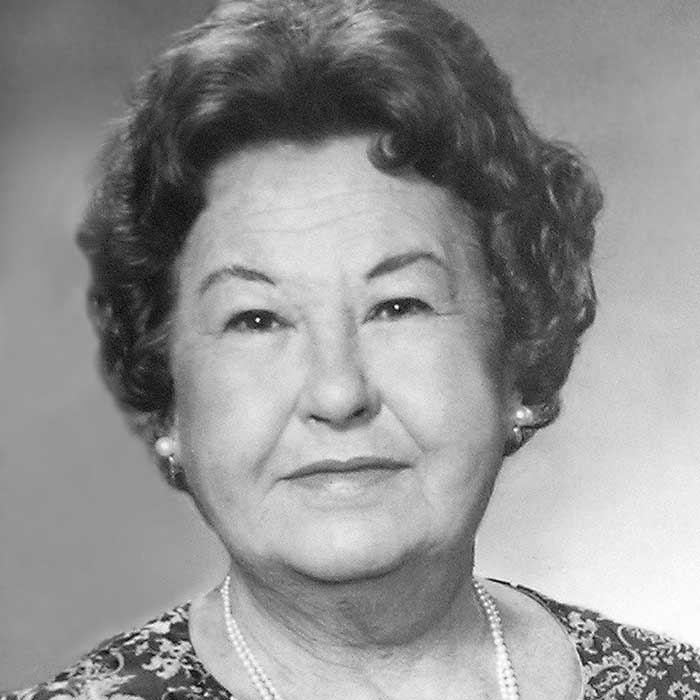 Georgette Cusson Groves
1910-1986
Born in Montreal, Canada, Georgette Cusson Groves was the seventh in a family of ten children. In her late teens, she moved to New York City where she attended Hunter College.
Georgette was competitive by nature and unafraid to be in the forefront of challenges not usual for women of the day. She was a certified ambulance driver, stationed in Long Island, during WWII. She was a licensed pilot and an active sportswoman.
Georgette married Wallace Groves in the late 1930's. Together they adopted five children.
During the development of Freeport, Georgette fostered community projects and hosted numerous events at their private residence to foster investor confidence. She founded the first museum, The Grand Bahama Museum, at the Garden of the Groves.
Georgette was a supportive partner in the development of Freeport and was the majority shareholder of Abaco Lumber Company, the Grand Bahama Port Authority and Bahamas Amusements.
Georgette Groves describes life in early Pine Ridge –
There were no facilities, no more of luxuries of Little Whale Cay. I'd find myself at a boarding house, which was the manager's house, and everybody would stay there – you know, all salesmen, for bricks or whatever was needed for the operation of the lumber camp, so there was no other place for these salesmen to stay, so one day I decided it was too much, and asked Mr. G. to build a house by the harbour where it was planned to have a harbour. That's when we built a pink house and then the green house …I well remember one night after dinner, sitting out on the veranda of that house, and Mr. G. said to me "One day you will see the biggest ships in the world out here" and I thought to myself "Oh, oh, there he goes, dreaming again" for it seemed so impossible to have big ships out there because all you could see were these little native boats in which was then a creek – no harbour.
She describes the experience of arriving on Grand Bahama and traveling to Pine Ridge.
We came by amphibian aircraft, and we landed on the north shore and that's where the railroad was, then we would get on the flat car to bring us Pine Ridge. Once the railroad was extended to the harbour we'd land by amphibious aircraft … at Hawksbill Creek, near Queens Cove. Other times we would fly over Pine Ridge, and then somebody would go block the road so that we would land on the road nearest to Pine Ridge.
Source: Carl Livingston notes
Read about Georgette Cusson Groves in the Bahamian Review.
Explore more about
Georgette Cusson Groves