Lives Lived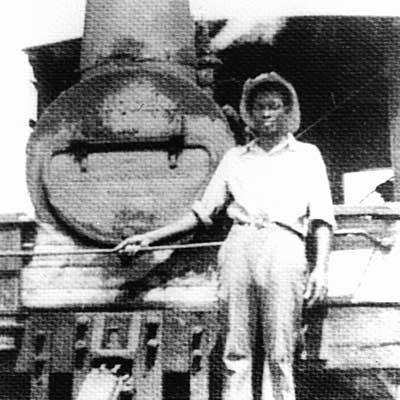 Washington Gaitor
Locomotive Engineer
Washington Gaitor was born in Rum Cay. He came to Grand Bahama in 1942 when the Abaco Lumber Company moved to Pine Ridge from the Melville site in Abaco.
In Melville, before becoming a locomotive engineer he was a fireman working to stoke the firebox of the locomotive. He advanced to become an engineer when Mr. Louis Morrison of Green Turtle Cay was transferred to work in the power-house in Melville.
There were two working locomotives on Grand Bahama – Locomotive #4 and #5. He was the operator of #5, the heaviest of the two locomotives. On one of his days off, Richard Forbes was in control of #5. There was an increase of grade in one of the sections and when pulling 10 or 12 cars of load –a lot of steam was needed. The relief valve of the locomotive boiler was usually set at 150# pressure. But prior to approaching an increase in grade with load it was necessary to cut off the relief valve and allow the pressure to build to up to 175 – 185 pounds of pressure to move the load up the incline. On the way down grade, the engineer would open the valve and release the pressure.
On the day of the explosion, Forbes forgot to release the valve. He parked the engine and went to lunch. The boiler on Engine #5 exploded killing five people. The accident occurred in January 1946 just before Wallace Groves purchased the Abaco Lumber Company. Locomotive #5 was eventually rebuilt and put back into service.
Gaitor recalled that the railroad was 8 miles in total. The distance between the harbor and Pine Ridge was 4.5 to 5 miles.
Locomotive #4 usually worked the north side of the island from where lumber was shipped. It was the first to be decommissioned when shipping lumber from the North side was discontinued. The tracks on this route were used as side tracks for pit props storage parking. Gaitor worked the south side from which they harvested and shipped pit props and lumber together. He typically pulled 8 cars of lumber and 3-4 cars of pit props.
Gaitor stayed in Freeport when the lumber operation moved to North Riding Point after Wallace Groves sold the Abaco Lumber Company to Owens Illinois.
He worked 27 years with the power company on both the diesel plant and quick start gas turbines. Gaitor retired from the Power Company in 1977 and worked as a security officer at Grand Bahama Hotel and Country Club.
All information was extracted from oral history taken by Carl B. Livingston.